Home
Christian Botha has solved some of the most intricate and baffling cases in the history modern South African crime. Among them several cases the police had given up almost a decade previously and which Christian Botha solved within weeks.
Christian Botha Private Investigator on Fox Television
Private eye Christian Botha's seafront Gonubie home was turned into a makeshift television studio yesterday when the well-known investigator was interviewed about a headline-grabbing murder case he cracked a decade ago.
Botha's solving of a Gauteng cold case that left police stumped for years will be the subject of an episode of Case Files: Africa and will be flighted on the Fox Crime channel on DSTV later this year.
In 2004 Botha took just four days to locate the body of Alex Steenkamp – a man who had been missing for eight years – in a shallow grave in his murderer's backyard.
Thanks to Botha's sharp skills of detection, Kenneth Downey is now serving a life sentence for bludgeoning his victim to death.
Television producer Meggan Raubenheimer, who produces documentaries for the Fox crime channel's series Case Files: Africa, said the production team had come across the Steenkamp killing in Botha's book Shallow Grave, in which he provides blow-by-blow accounts of his crime-busting cases.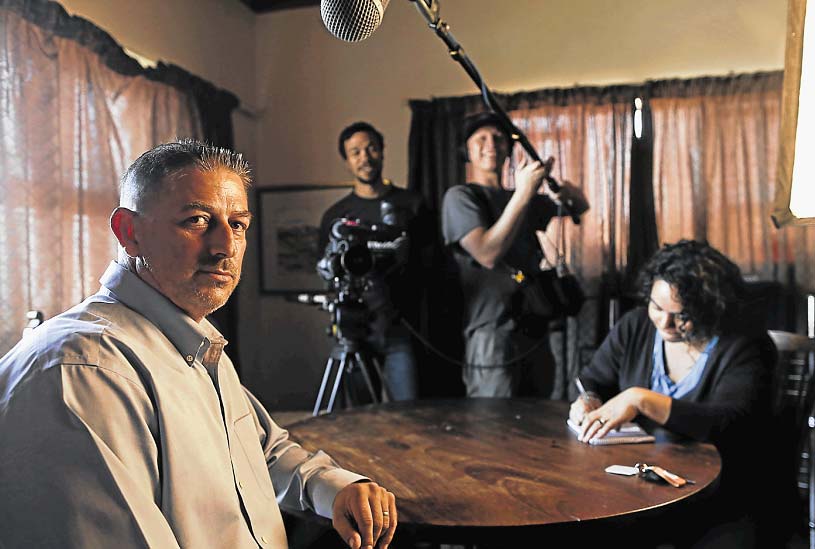 "We thought it would be an interesting story to do because Steenkamp's family had been desperate for answers and then one PI [private investigator] comes along and solves it in four days," said Raubenheimer, who recently filmed an episode on the Anni Dewani murder case and interviewed her family in Sweden.
Raubenheimer said the series delves into a number of other high-profile murder cases in South African and African criminal history. One was the "Station Strangler" case in which 22 young boys were murdered in Cape Town. Another was the "Sizzlers Massacre" in which nine young male sex workers were slaughtered in a Seapoint house.
They have been airing on the Fox Crime channel on Tuesdays at 8.30pm since the beginning of the year. "I'm very chuffed they chose this case," said Botha. "It is a 10-year-old case but it is very close to my heart because it gave me the confidence to go into cold cases. "After that case is was astounding how many clients hired me."
Botha said he had been hired by Steenkamp's daughter Samantha who worked at the UN in the US and was desperate to solve the puzzle of what had become of her father. "I just went to the last place he was supposed to have gone to collect debt owed to his brother and found a big piece cut out of the carpet in the lounge. His body was buried in the back garden."
Shallow Grave on Fox TV
The mystery of what happened to businessman Alec Steenkamp lay buried for 8 years in the back yard of a house in Brixton, Johannesburg. On the 19 September 1996 the 43 year old businessman disappeared without a trace. He was sent to collect money for his brother and was not seen since.
Police were of no help to the family, suggesting that he may have ran off with the money and another woman. But his family refused to believe the police's story. For 8 years his daughter, Samantha Steenkamp struggled to find out what exactly happened to her father.
In 2004 she raised enough money and hired a private investigator, Christian Botha. Within 4 days Botha discovered what police were unable to for 8 years – the remains of Alec Steenkamp, buried in a shallow grave in the back yard of a house in Brixton. The house was owned by murder suspect, Kenneth Downey, who had since gone on the run.
References
Below are references from Christian Botha's client. These references refer to cases which Christian Botha has worked on recently.